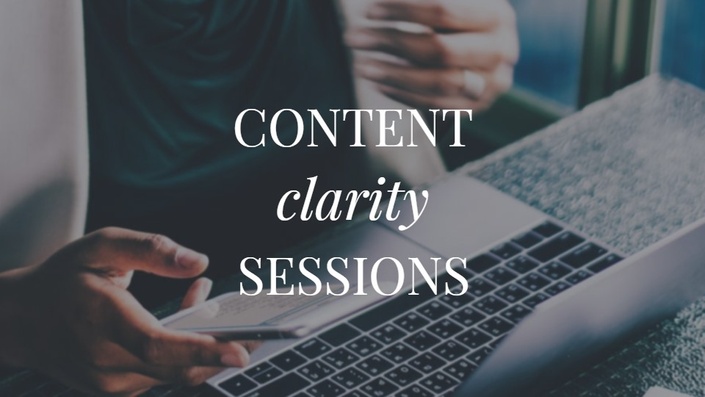 Content Clarity Sessions
Personalised 1-to-1 Content Training with Chloe
Why have a content clarity session?

You've got a lot on your plate running your business. And on top of that, now you need to create professional content too (like all the time!). There's masses to learn and put into practice. It's easy to get overwhelmed and stuck. And then it's hard to get unstuck.

Sometimes you just need to talk it through with someone face to face, in real time. And get a few things straightened out.

What is a content clarity session?

A content clarity session with Chloe is one hour of personalised content marketing training and advice, specific to your situation and your business. Your session is part of a package which includes videos and materials to help you prepare for your session and a workbook to put an action plan together after our training.
Also in the package:
A Content Clarity Audit of your content with feedback and recommendations undertaken by Chloe before your session.
Additional bonuses to help you put your content clarity into practice creating more confident content for your business.
What will a content clarity session give me?
We help you take a big picture approach to your content creation and marketing, as well as focusing on the specifics you need.
You will get:
Ideas about how to communicate your business and services in a way that's meaningful to you (including creative tools and tech).

Simple content marketing strategies you can realistically achieve in your business (and your time-frame).

A clear plan to improve your content, and an understanding of how to implement it. So you can feel more confident creating content for your business.
There's no pressure to fit in with someone else's idea of what should work for you. You decide what you'd like to focus on and we find a way forward for you.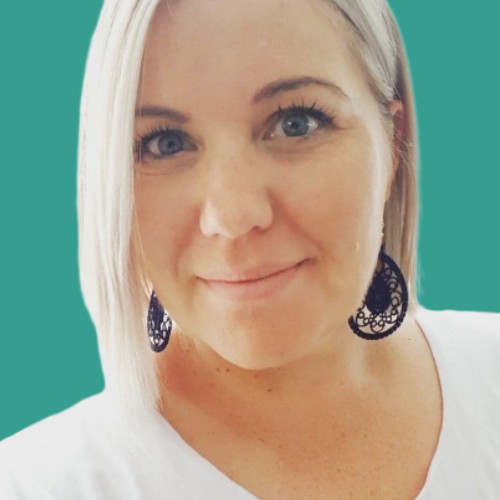 "Chloe has changed the way I see creating content for my business. She is knowledgeable, easy to work with and really took the time to understand my business and what was standing in the way of successful content creation. I can't speak highly enough of her."
Kathryn Heathfield, Director, Kathryn Heathfield Consulting
How Does It Work?
Content Clarity Sessions are available in three levels of package.
You may opt for a one off session to focus on a key issue. Or book a three or six session package which will:
~ Give you priority scheduling to set your own intervals between sessions well in advance.
~ Support you to follow a specific pathway for goals you want to work on over a number of weeks or months.
For further information please see the 'What to expect from my training and my trainer' video in the curriculum below.

When do I get access to my resources?

As soon as payment is received for your content clarity session/s you get immediate access to all videos and resources as well as my scheduler link to book in your session/s.
We meet in person depending on location, or via a virtual meeting room, with a link sent in advance.
CONTENT CLARITY SESSIONS ARE FOR
New and established consultants and coaches who want to grow your business. If you want to reach more people and attract more clients, these sessions will help you get clear and confident about your content marketing (even if you don't know where to begin).
Experts who want to be seen as the go-to in your industry. You want people to know the value of working with you and you know your online presence is an essential part of that. You're ready for simple strategies that help you communicate your brand (that won't break the bank).
Busy business-owners! You're stretched thin, you're wearing all the hats, you'd love to be blogging, posting on social media, making videos to attract more clients. You need a no-nonsense action plan to get you creating content consistently (and still have a life!).
CONTENT CLARITY SESSIONS ARE NOT FOR
Businesses that aren't interested in a long-term strategy. Content marketing is an ongoing commitment. If you're not ready to think in months or even years, this training isn't a good fit for you (but feel free to come back when you are).
People who don't want to create content. If you are blocked with your content but want to find a way forward, I can help you. But if you really just don't want to do it, I don't have a special solution for that (but feel free to come back when you're ready).
People who want to run Ads. If paid reach is your priority, adverts aren't something I specialize in. This training is to help you figure out ways to connect with your audience better through organic engagement (which can help you prepare to run ads.).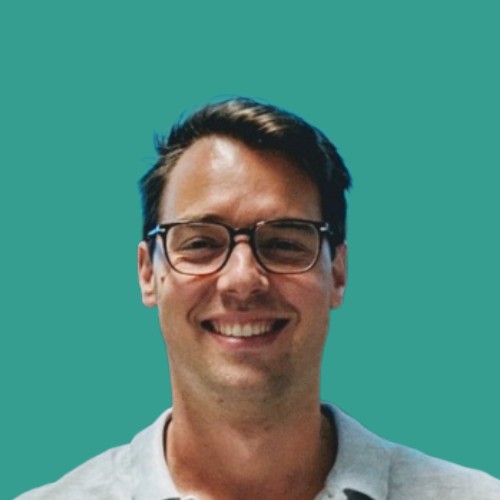 "This content clarity session was highly detailed and specific. Chloe explained how to strategically breakdown my services into bite-size video pieces which immediately gave me clarity on how to create meaningful content for my business."
Sam Cottell, Director, SA Trade Licensing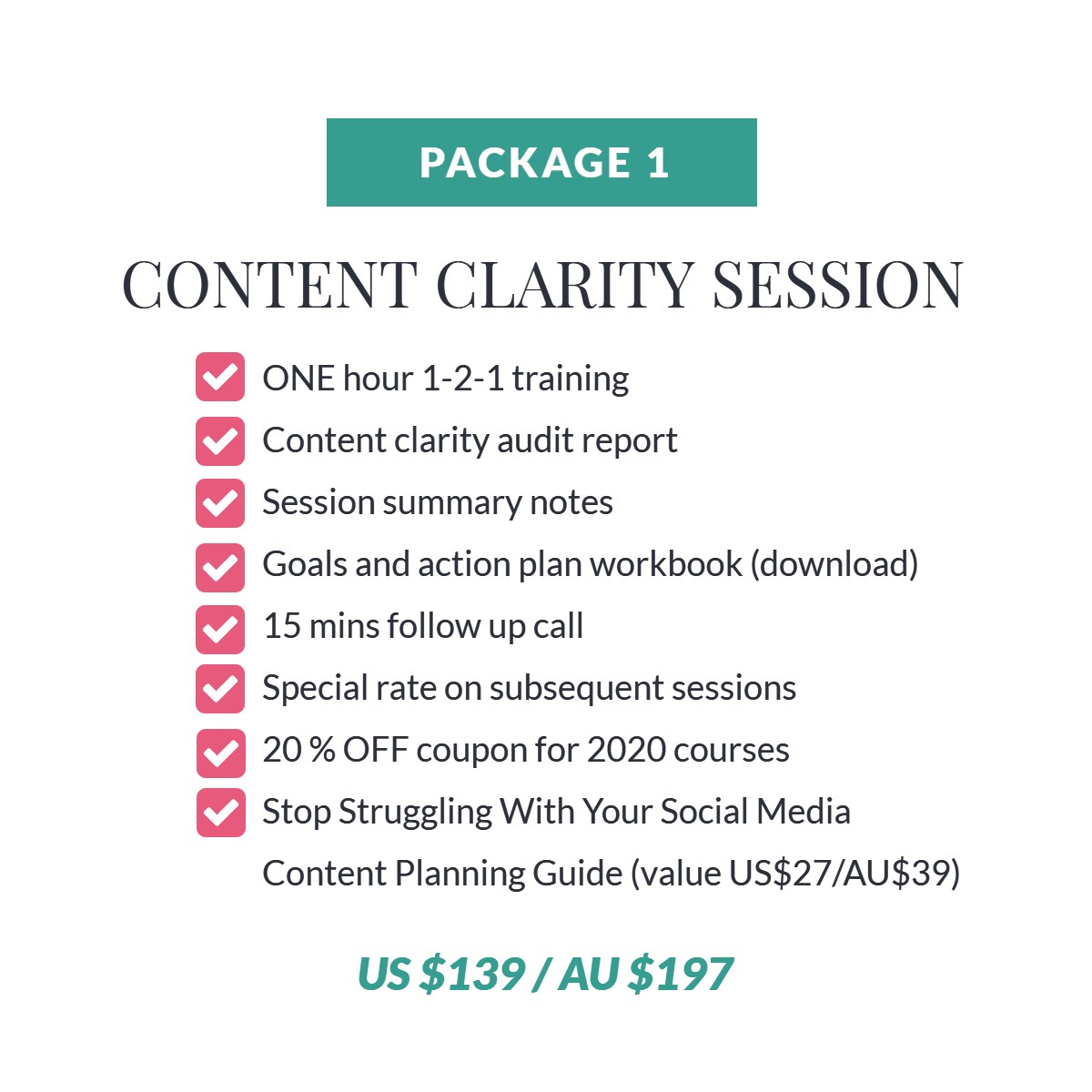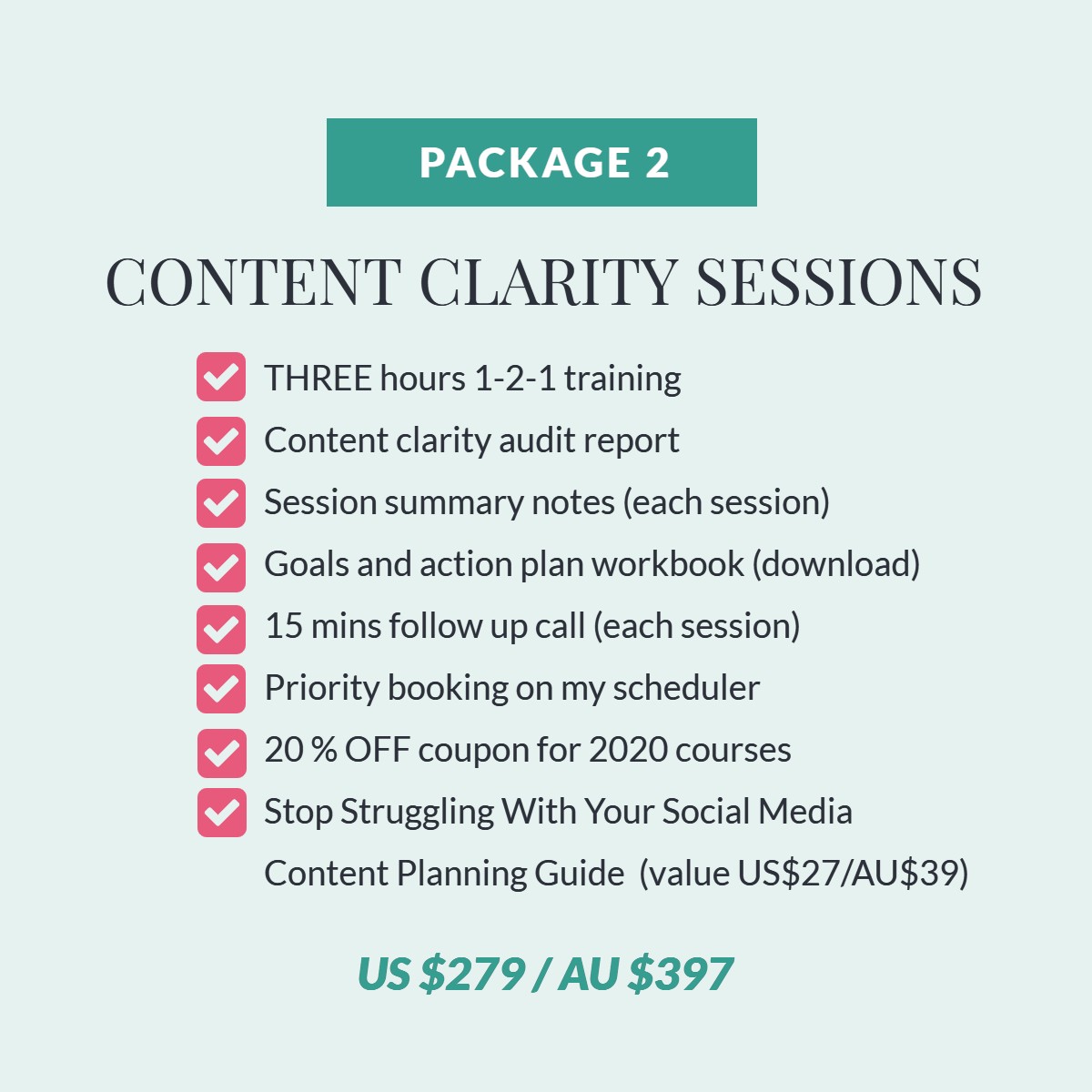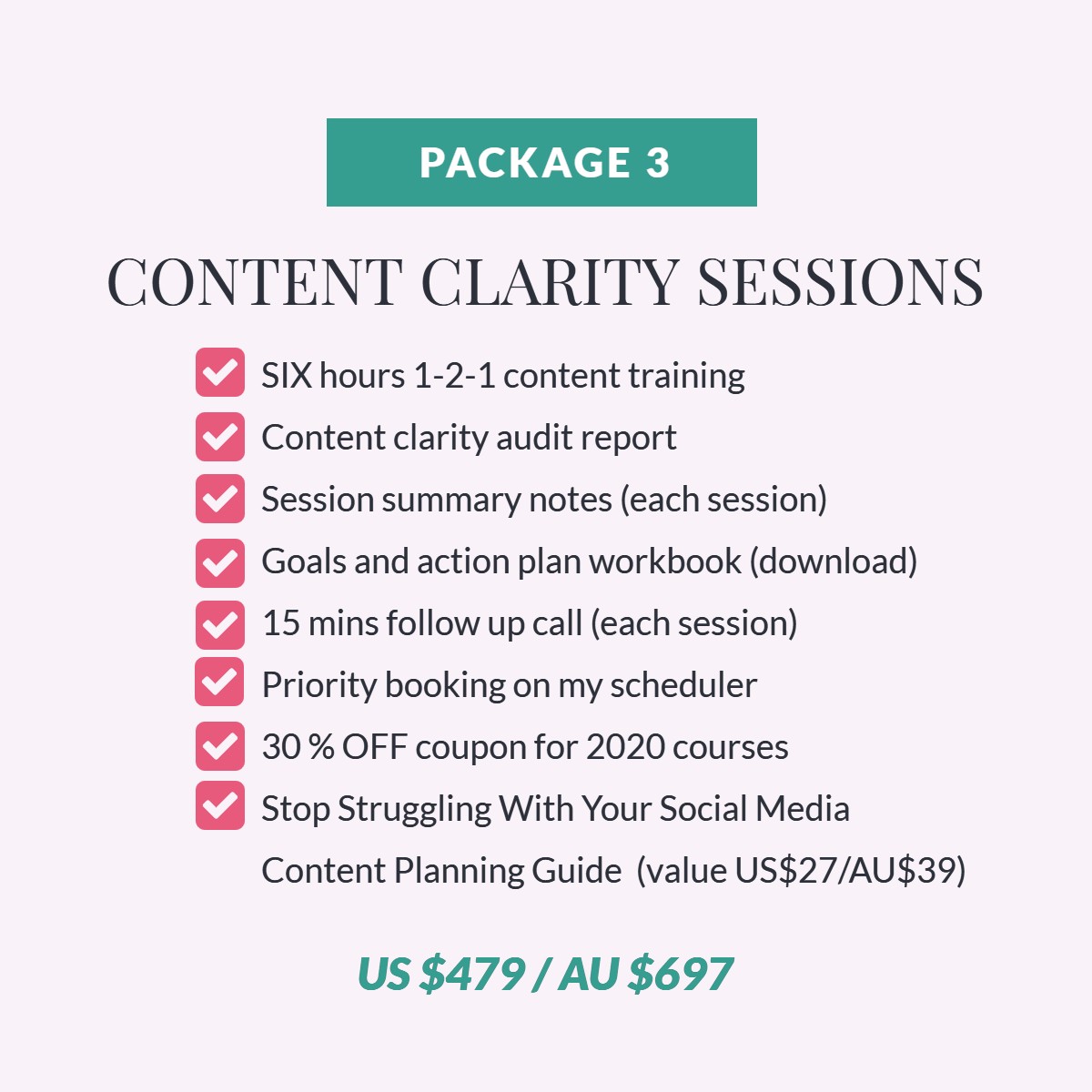 Your Instructor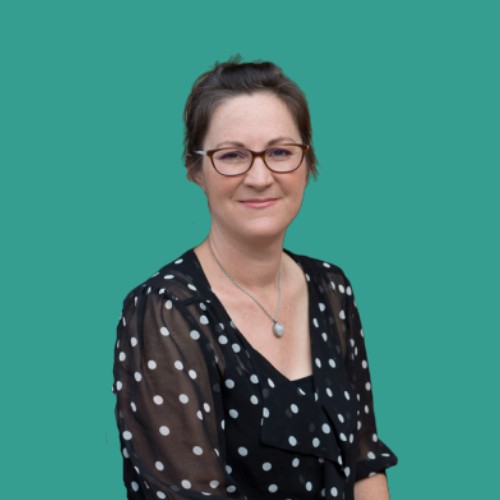 Hi I'm Chloe, I'm a digital content trainer. I help new and established consultants, coaches and educators create confident content. I can take you from stuck and stressed to clear and confident with easy to understand content marketing strategies and creative skills training. So you can connect with your clients and grow your business presence online.
You're in safe and capable hands learning with me. I've facilitated over four thousand hours of adult learning in the classroom as a qualified trainer. I have a Graduate Diploma in Communication, a broad creative skill-set and a special interest in photography for social media. I bring you no-nonsense practical training designed for really busy professionals!
INCLUDED WITH YOUR CONTENT CLARITY SESSIONS:
Stop Struggling With Your Social Media Content Planning Guide - complimentary enrollment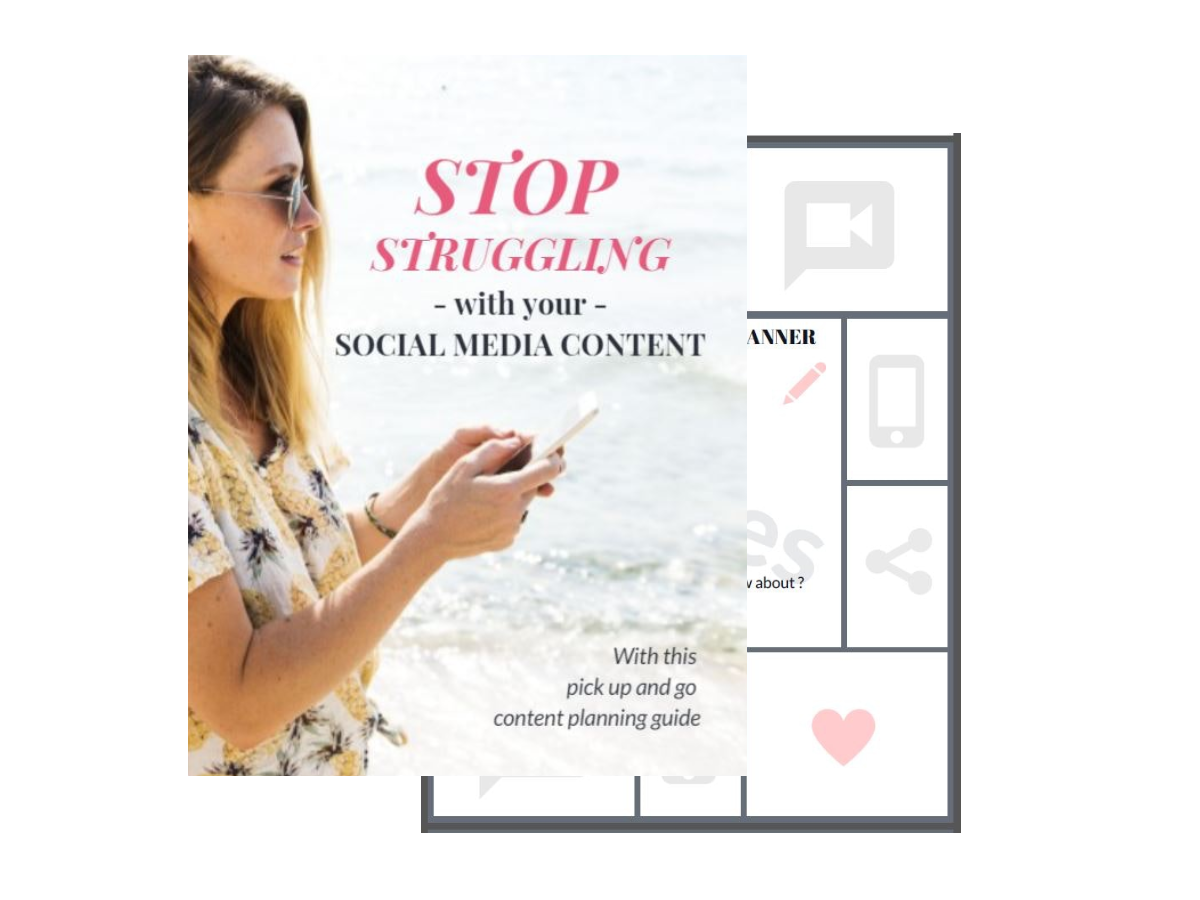 PDF downloadable planning guide, like nothing you've ever seen before! With print-friendly pages for the essential know-how you're going to want to refer to.

Over forty ideas and suggestions of content you can create for a balanced social media presence for any business.
Quick and simple printable planning sheets (2 versions) for flexible content planning.
Forty five minutes of video guidance on how to get the most out of this unique planning system.
Value US$27 / AU$40

CONTENT CLARITY SESSIONS COMMENCE IN JANUARY 2020.
We'll be happy to let you know when bookings open, please fill out this form and we'll keep you in the loop. Thank you.
Frequently Asked Questions
If I'm not happy with my training session/s can I get a refund?
I don't want anyone to be disappointed or feel they made a mistake. This is why I give clear information about what you can expect from your training and from me as your trainer, in the curriculum videos. I also use the session preparation questionnaire to double-check we are right to work together (and I let you know if we're not). Please take the time to review this information as training fees are non-refundable once training has been received. See the Terms and Conditions section of the curriculum.
Why do you call yourself a content trainer and not a coach?
I've facilitated over four thousand hours of adult learning face to face in the classroom, as a qualified trainer (under nationally recognised qualifications in Australia). A trainer performs many roles, including teaching, facilitation, mentoring, and coaching. For this reason I prefer to call myself a trainer rather than simply a coach. For more information please see the 'What to expect from your training and your trainer' in the curriculum videos.
How long do I have access to the training materials?
Your workbooks are all downloadable and yours to keep. Access to the video sections of your training is for 12 months. Please see the 'Terms and Conditions' section of the curriculum.
Are your prices in AU or US dollars?
My prices are in US dollars as I have an international audience and client base and it is the convention to price in US dollars in this situation. Please check current exchange rates before making your purchase.
Why does this page say not open for enrollment?
To ensure a really positive client experience I am finalising all aspects of this service thoroughly. If you would like to find out more and be one of the first one-to-one training enrollments please complete the form on this page and I'll get back to you. Thank you.
FOR CONTENT CLARITY IN 2020 REGISTER YOUR INTEREST FOR 1-to-1 TRAINING WITH CHLOE TODAY!
This course is closed for enrollment.